Complam recycled carbon fiber structural laminates are compression molded with metal inserts to make robust bike components.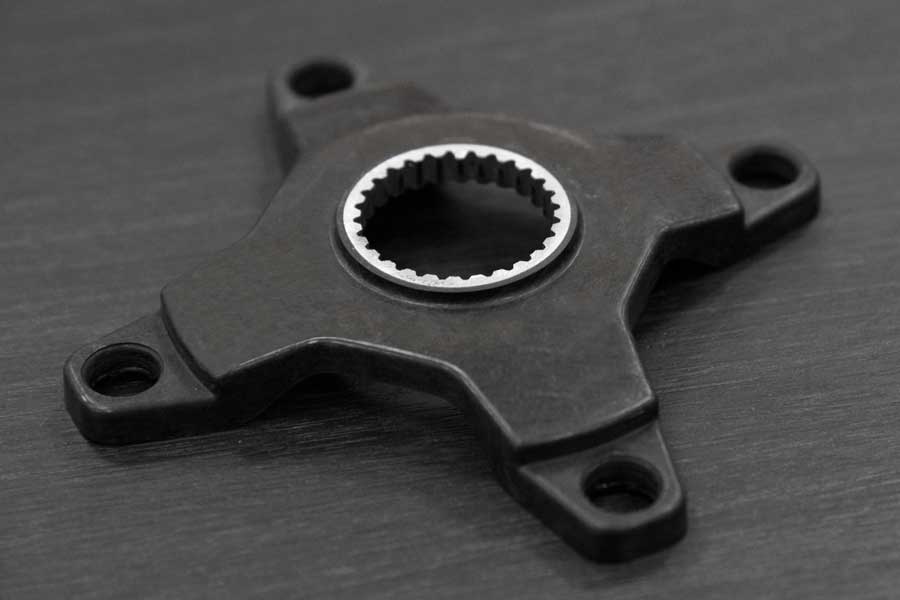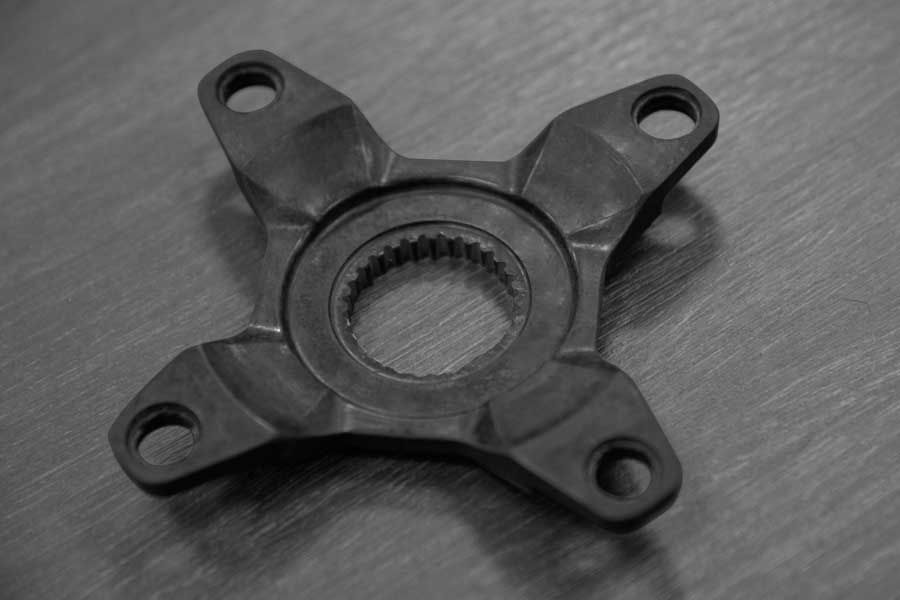 Compression molded structural components from recycled carbon fiber
Recycled carbon fiber precision die-cut laminates are stacked and layered in a high compression mold to produce structurally robust components from 100% recycled carbon materials. The bicycle chain spider shown above is an example of this practical, sustainable technology.
Alloy inserts can be included in the compression molding for added rigidity, structural strength and functionality. In this example, an alloy ring insert enables the bike chain spider to be fitted securely onto a hub and maximize structural integrity.
Recycled carbon fiber composite products with GRS certification
Complam die-cut compression molded thermoplastic products are manufactured from 100% recycled carbon fiber. Complam's in-house carbon fiber recycling process recovers fibers from thermoset carbon fiber waste that is very difficult to recycle and is usually discarded in landfill.
Complam demonstrates how carbon fiber (RCF) can be used successfully to make new carbon fiber injection molded components, compression molded structural components and thermoformable laminate sheet products without affecting functional performance and appearance.
We produce composite carbon fiber laminate materials in our GRS certified facility in Taiwan, and continue to innovate in the recycling and reuse of reclaimed carbon fiber in thermoplastic components manufactured from waste thermoset carbon materials.
Complam products manufactured from recycled carbon fiber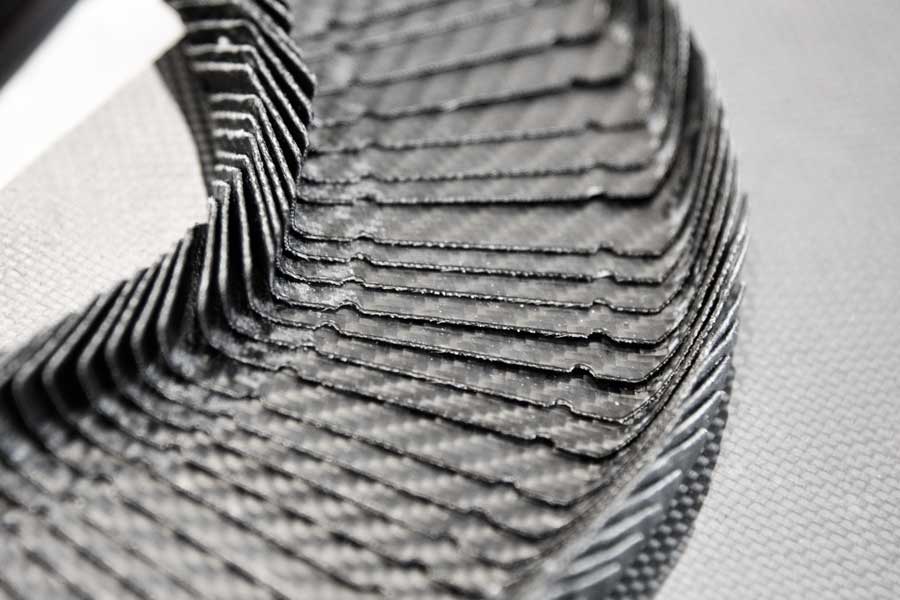 Compression molding of die-cut recycled carbon fiber composite laminates for structural bike component manufacturing is only one of our advanced processes for sustainable carbon fiber manufacturing. Complam also manufactures recycled carbon fiber thermoformable composite laminates and we produce a recycled carbon fiber injection molding resin.
Complam thermoformable composite laminates are already being featured as a sustainable alternative to non-recycled carbon fiber components on bicycles, helping leading carbon fiber bike manufacturers to achieve brand sustainability targets.
Our recycled injection molding resin combines PA66 with 12%-30% recycled carbon, and is compatible with standard injection molding machines without the need for retooling or changes in production processes.
---
We are experts in four sustainable carbon fiber composite technologies:
Carbon fiber recycling and reforming
Carbon fiber composite laminates
Thermoplastic carbon fiber composites
Recycled carbon material manufacturing
---
Our closed-loop in-house recycling facility allows us to reclaim carbon fibers from thermoset carbon fiber products. The success of our recycling process has already been proven in the recycling of bike frames and components.
Complam's ongoing partnership with bike manufacturers, including SRAM, demonstrates the brand utility of our recycled carbon fiber components. Our closed-loop recycling service for thermoset carbon fiber enables sustainable manufacturing by reducing landfill disposal of carbon fiber, a historically very difficult material to recycle or reuse.
Complam make sustainable carbon fiber manufacturing a reality
The bike chain spider featured here demonstrates the feasibility of using reclaimed carbon fiber (RCF) to manufacture structural components alongside our range of non-structural RCF products.
Complam offers a  combination of structural and non-structural recycled carbon fiber engineering solutions that make sustainable carbon fiber manufacturing a real choice for OEM designers and engineers.
The versatility and utility of Complam RCF is being demonstrated in the bike industry, where carbon fiber laminates are being used to manufacture fenders, seats, E-motor covers and parts and battery enclosures as well as bike chainring spiders.Complam's CEO, Michael Tsai, see this as a groundbreaking initiative that drives sustainability and closed loop material manufacturing in a real and economically viable way. We make sustainability a real option in carbon fiber component manufacturing.
Recycled CF meets consumer demands for sustainable products

The consumers of 2023 demand that manufacturers show their commitment to environmental protection and demonstrate they are mindful of sustainability issues. This is becoming increasingly difficult for manufacturers working with innovative high strength, low weight materials such as thermoset carbon fiber composites, which are less sustainable than many traditional materials.
Thermoplastic CF made from recovered and recycled carbon fiber is a sustainable alternative for manufacturers who are competing for consumer attention in highly competitive markets. Complam thermoplastic carbon fiber meets ISO 14067:2018 Greenhouse Gases, Global Recycled Standard, and ISO 14064 CO2 Verified standards to help our customers demonstrate global leadership in sustainable manufacturing.
Sustainable carbon materials from Complam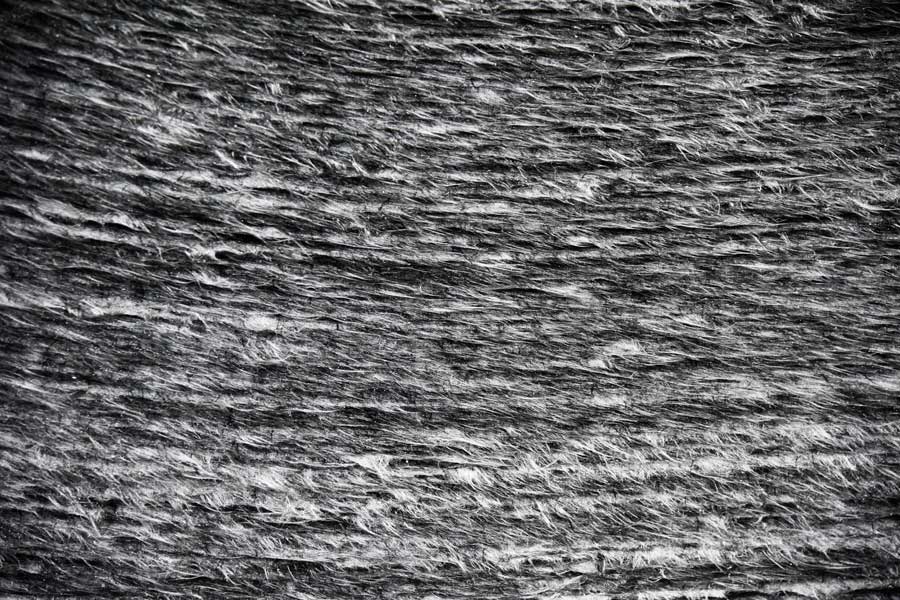 Complam's processes for sustainable compression molding, thermoforming, and injection molding are easily customizable. We also manufacture composite laminates with glass or organic fiber reinforcement alongside our standard range of carbon fiber products.
New & reclaimed carbon blends
Reclaimed and pelletized carbon fiber for injection molding
Reclaimed non woven carbon felt
Organic flax fiber reinforcement
Proportions of new and reclaimed carbon fiber can be adjusted depending on the product type and your engineering requirements. Injection molding pellets can have between 12-20% recycled content. 100% recycled content is possible for the composite laminates we manufacture for compression molding and thermoforming.
Sustainable compression molding enhances the profile of your brand
Thermoset epoxy carbon fiber is so environmentally harmful and has such a significant carbon footprint that the consumers of today are eager to switch to alternatives. The technology to replace thermoset epoxy carbon fiber with entirely thermoplastic carbon fiber is currently constrained by some engineering limitations, but including recycled fibers and resins is the first step towards a truly green solution.
Reclaiming EOL carbon fiber and carbon fiber manufacturing waste is one of the services we offer to our customers as part of our drive towards sustainable closed-loop carbon recycling. By combining green recycling of thermoset composites with the introduction of sustainable thermoplastic carbon fiber, our customers can stay ahead of the trend to adopt more sustainable manufacturing practices.
Our technology makes your products more appealing to consumers even in a business sector that is so reliant on thermoset carbon fiber that it can seem almost impossible to reduce the carbon footprint of manufacturing. Contact us today and discover how we can help your revolutionize the sustainability of your brand.