Performance + Sustainability = Success
In today's competitive manufacturing industries, consumers are focused on sustainability like never before. Customers want to know the recyclability of plastics and laminates, and how much effort has been made to use recycled materials in your products.
Sustainable manufacturing is an opportunity to build a competitive advantage. If your product is more sustainable than your competitors, it promotes consumer confidence in your brand and increases sales.
Consumers demand high-performance and recycled materials. CompLam's vertically integrated business model and innovative technology enable us to achieve this.
Green & Sustainable Composite Laminates
CompLam is an innovative green and sustainable composite laminates manufacturer. We have developed the technology to use recycled materials for both thermoplastic resins and fiber reinforcements. We achieve world-leading ratios of up to 74% recycled and reused materials, even in mass production of Carbon Fiber Reinforced Thermoplastics (CFRTP).
Leading the Field in Responsible Manufacturing
CompLam leads in our ability to recycle carbon fiber for reuse. We combine reclaimed and reground carbon fiber with PCR plastic based resin formulations to achieve significant gains in reuse and recycling percentages in CF laminates.
Long Fiber Thermoplastics
We manufacture long fiber thermoplastics (LFT) for general applications with 70%+ recycled material, and high performance carbon fiber plate for athletic shoes with 25%+ recycled material and no loss of strength.
Reducing Raw Material Use
Our work on mass reduction without compromising performance demonstrates a responsible approach to the environment. CompLam Complight ®  Long Fiber TP enables products like athletic shoe studs to be made 27% lighter than standard formulations.
Maintaining High Quality Standards
We work on waste treatment and raw material supply with trade associations and industry partners. This includes a carbon fiber reclaim program. We deliver the consistent and reliable quality and finish our customers expect from our thermoplastic composite laminates without compromising on sustainable standards.
Total Quality Management
Quality control of recycled material is a major challenge for manufacturers who do not have vertically integrated supply chains. CompLam maintains in-house quality control of the production cycle from raw and recycled material sourcing and processing through to final product testing and evaluation.
Trusted by Leading Global Brands
CompLam is the chosen supplier to significant global brands in the electronics, aviation, medical, apparel and automotive sectors. Our customers have discovered we can manufacture green products that meet or exceed their most stringent engineering and finish requirements.
Recycled Material Development and Application
Recycling & Reuse Embedded in Production Cycle
We grind production waste to reuse as filler for injection molding processes, optimising recycling and reuse in-house. We also process compression mold waste material for reuse in long fiber FRTP sheets and laminates.
Leaders in PCR Plastic Resin Formulation
We are leaders in using PCR plastics to develop resin formulations for a range of applications. This has enabled us to boost recycled material percentages in our products for the benefit of all our customers.
Customizable Recycling Percentages
We manage the overall percentage of recycled material to meet a wide range of customer requirements. Our structural design calculations integrate the proportions of PCR materials used in resin and for fiber reinforcement to exactly match your specification.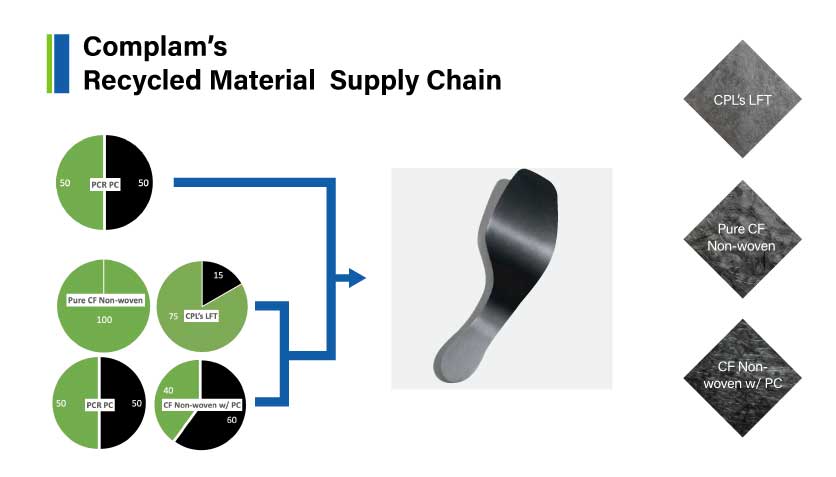 CompLam Recyclability & Recycled Material Applications
Use of Recycled Materials
Non-Woven: Recycle Ratio 74%
PCR PC Resin: Recycle Ratio 50%
Long Fiber TP Processing
Recycle From Scrap Ratio: 70%
Insole Shoe Plate to GRS Certified Standard
Complight ® Long Fiber TP Shoe Stud
Mass Reduction: 27% Lighter
CFRTP
CompLam CFRTP is offered with PC sheet, PA6 sheet, PP sheet and reclaimed LFT (chopped carbon fiber and glass fiber waste products reformed with recyclable polycarbonate resin). CFRTP is a high performance product suitable for a wide range of demanding applications.
Featuring up to 74% recycled materials from reclaimed fibers for reinforcement and resin manufactured from post-consumer recycled plastics, CompLam CFRTP enables manufacturers to meet consumer demands for high quality environmentally friendly products.
LFT Composite Sheet
We utilise scrap from our in-house production, upstream fabric weaving manufacturing and downstream molder production as sources of recycled material for LFT manufacture. Post consumer recycling plastics are employed for manufacturing resin.
Our reclaimed LFT sheet has a fiber-weight to resin ratio between 25% and 35% giving approximately 30% of the performance of the original material while retaining significant strength and modulus. LFT is ideal for cost-sensitive products that do not require the very high strength to weight ratios of standard CFRTP composites.
CompLam: No Compromise in Customer Satisfaction
CompLam is unique as a sustainable composite laminates and reinforced thermoplastics manufacturer in our focus on total quality management and customer satisfaction. We are a vertically integrated company from concept design through to manufacture and supply of finished products.
Research & Development In-House
Supply Chain Integration
Rigorous Quality Management
Our dedication to perfection ensures the finished product has exactly the engineering performance and quality of surface finish our customers require. Please contact us to find out more about our customized solutions for recycled materials.